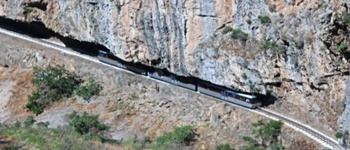 Being just 90 km. From Patras Kalavryta you can enjoy sightseeing historical, religious, amazing cave lakes and ski center which is one of the largest ski resorts in Greece. On this path, it is possible to almost halfway done with the gear, a railway line which is constructed by the technique of "tooth" on which the train is hooked on the rails at points where the slope is large. The railroad crosses the Vouraikos gorge passing in long tunnels and bridges, covering a total distance of 22 km. exceptional views and beauty.
This can be done by letting you our taxi in Diakopto, from where you will get the cog and waiting for you in Kalavryta. In the town of Kalavryta you will be able to see the traditionally built homes and find traditional Greek products. In a short distance you can visit the Great Cave a monastery built in a natural cave in the rock, and the Monastery of Agia Lavra where began the Greek revolution in 1821.
Finally, much interest is the Cave of the Lakes which consists 13 cascading lakes, into which the visitor enters through an artificial tunnel and the tour made by small man-made bridges.

DETAILS

Excursion duration: (transition, stay 3 hours return): 6 hours

Value route: 170 EURO

NB .: there is a stay of more than two hours according to your desire
a surcharge of 10 Euros per hour. Price does not include tickets to the cog and the entrance to the cave.